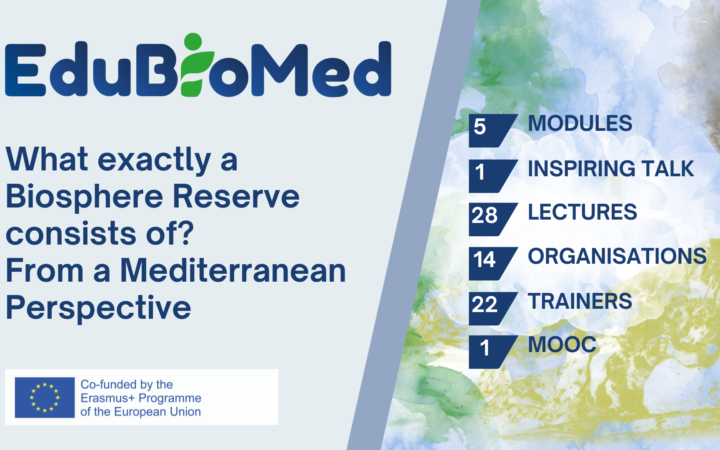 Posted on
Edu-BioMed project has worked to strengthen, foster and upgrade academic activity at four Moroccan and Lebanese universities in the context of Mediterranean Biosphere Reserves. Among its objectives, it has produced an online course, open accessible and available in English and French. Also, in both languages, is available a reusable version of the course, provided as a full course and as well module per module.
Learning about Biosphere Reserves is equivalent thus to learn about matters of sustainability: environmental protection, territorial management, sustainable development.
Understanding a Biosphere Reserve is to understand issues in socio-ecological studies.
Managing a Biosphere Reserve requires a particular set of soft and hard skills.
Besides being an object of study, Biosphere Reserves are also tools for learning, 'living laboratories'. That is why learning should be context-based, exploiting the territory as a teaching environment.
Throughout the course, participants will learn about the case of Biosphere Reserves, special protected areas promoted under the auspices of the Man and Biosphere Program of UNESCO. Teachers are professionals in the field of environmental protection and education: university professors and researchers, NGOs representatives and Biosphere Reserve managers.
It's time to learn from Biosphere Reserves! Start your journey and navigate all the Modules and lectures: find the course here.
You can download here a presentation of the course.