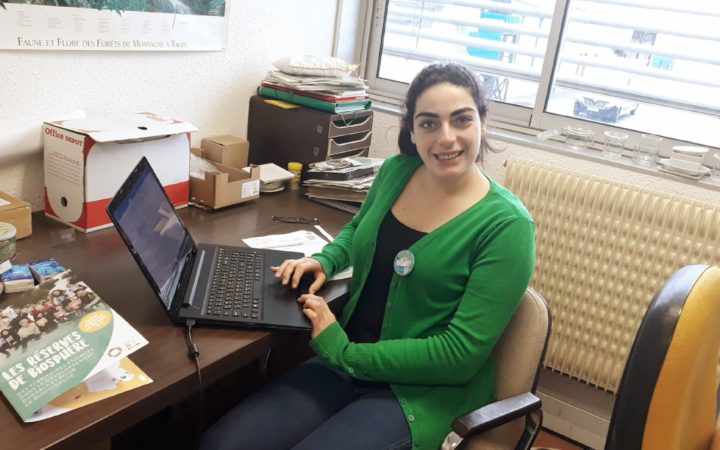 Posted on
Having chosen the feasibility study of the creation of a Biosphere Reserve in Jezzine (South Lebanon), Marie-Claire has moved from Lebanon to France, in Castanet-Tolosan in the INRA Campus to do her internship with the MAB France for one month from February 24th to March 22nd. She benefited from an EduBioMed scholarship offered to students and research staff interested in Mediterranean Biosphere Reserves. They are proposed in the framework of the EduBioMed project, which aims to strengthen, foster and upgrade academic activity at four Moroccan and Lebanese universities in the context of Mediterranean Biosphere Reserves.
She accepted to share her experience during an interview with UNIMED – partner of the project EduBioMed.
What did you gain personally and professionally from your mobility?
Personally, travelling alone helped me to be more responsible and independent. It also allowed me to face the unknown with confidence. It was like a life training abroad, very useful as I would also like to travel for my PhD. This mobility gave me the opportunity to explore a new culture, lifestyle, food, places, etc. I love meeting new people, exploring, and taking risks.
Professionally, my French journey shed some light on the MAB Programme, the French and international committees and functions, national and international networks, etc. I also learned about BRs, their functions (conservation, sustainable development, and logistic support), zoning (core, buffer, and transition zones), creation, coordination and management, advantages (UNESCO label, covering all SDGs, protecting lands, partnerships, etc.), etc.
You visited some of France's Biosphere Reserves and met their coordinators. Did this allow you to better understand their actual work, advantages, disadvantages? Can you give us an example of something you learned or a special experience you encountered?
The initial program scheduled attending the "Winter School" and so meeting many BRs coordinators, visiting "Vosges du Nord" transboundary BR in France-Germany, and attending the "éco-acteurs" day in the "Gorges du Gardon" BR. Unfortunately, due to COVID-19, the "Winter School" was cancelled together with the visit to "Vosges du Nord" BR, and I returned to Lebanon one week before the scheduled date. The only visit left was for the "Gorges du Gardon" BR, March 6th, 2020.
Visiting "Gorges du Gardon" BR allowed to discover the "éco-acteurs". They are citizens leading and contributing to the BRs' awareness campaigns, eco-friendly activities, valorization of local cultural and natural heritage. In this meeting, new citizens were presenting their SDGs related projects for officially entering the BR "éco-acteurs" network and consequently the national network. Their number is increasing, so this is a sign of the BRs' success and is a big advantage. I also visited their library and museum exposing the region's natural and cultural heritage and history, and so better understood the concept.
The MAB France general assembly also played a major role in informing me about its composition, research programs, initiatives, experience sharing, youth engagement, trophies, financing, etc. Even though I had to leave France earlier and didn't visit the other BRs, I returned with a clearer vision of the topic and a will to apply it in Jezzine (1).
What would be your advice for future mobility students of the EduBioMed project?
EduBioMed had my back, and will certainly have everybody's back, whatever his race or religion. Due to the economic crisis, Lebanese money is blocked in the banks. Financing travels, and transferring money from Lebanon, even from Lebanese parents to their children studying abroad, is currently difficult, yet impossible. EduBioMed project played my parents' role. It bought me airplane tickets, and offered me a scholarship covering all my stay in France, and so, rescued me! But not only me, two of my university colleagues also got their scholarships, financing their three months' stay in Morocco. In terms of team's spirit, I never heard any complaints or felt any meanness, but kindness, generosity, and comprehension.
I would like to thank Antonio Bontempi, the project manager who responded to my "Lebanese" problems and helped me a lot. For future mobility students of the EduBioMed project: never fear the cost of education, nor the distance, have faith in EduBioMed!
Interested in doing a mobility? Have a look at the conditions here.
_________________________
(1) Jezzine is a town in Lebanon, located 22 km (14 mi) from Sidon and 40 km (25 mi) south of Beirut. It is the capital of Jezzine District. Surrounded by mountain peaks, pine forests (like the Bkassine Pine Forest), and at an average altitude of 950 m (3,117 ft), it is the main summer resort and tourist destination of South Lebanon. The town is also well-known in Lebanon for its production of handmade, traditional cutlery and daggers with decorative inlays, artisanal wine, and the shrine of Our Lady of the Waterfall. Source Wikipedia