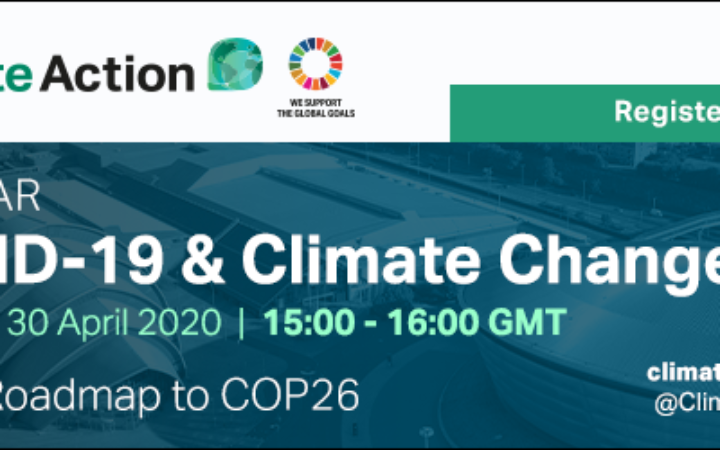 Posted on
The current COVID-19 health crisis has created grave uncertainties across the world. In response, governments have brought in unprecedent measures to curb the spread of the virus and mitigate the economic fallout.

Whilst COVID-19 has seemingly put environmental diplomacy on hold with the postponement of COP26 and the 15th Biodiversity COP, what does the current global health crisis mean for ongoing climate crisis? In a year in which global political and business leaders are meant to put climate change first, what impact will this pandemic have on our collective ability to address the climate emergency?

This month, as part of the Roadmap to COP26, Climate Action presents a focused webinar featuring a global panel of sustainability professionals, health leaders and environmental policy experts. They will share insights on how COVID-19 has directly impacted climate change, what it means for our ability to address the emergency and why we must 'build back better' and rebuild 'green' for a more sustainable future.

This webinar will cover:
What are the direct impacts of COVID-19 on our climate?
How has COVID-19 impacted our ability to tackle climate change?
What can we from the COVID-19 crisis to help us act on the climate crisis?
How can we ensure we rebuild 'green' and use financial assistance to benefit everyone?
What are the next steps for government post COVID-19 and how should policy and regulation change to benefit climate change in a post-COVID economy?

You can register here.
Original article and more information on the Climate Action Website.