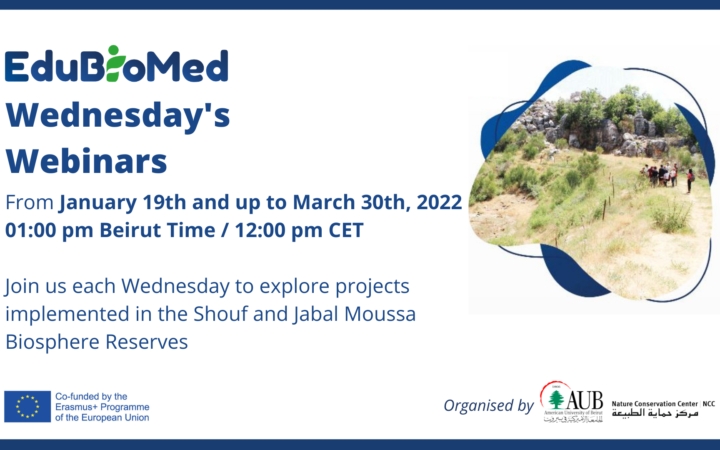 Posted on
From January 19th up to March 30th 2022, each Wednesday one webinar will take place to present the case studies carried on by students and researchers of the American University of Beirut, partner of the Edu-BioMed project, in the Lebanese Biosphere Reserves of Jabal Moussa and Shouf. Besides the case studies, also further research, teaching and outreach activities conducted in the BRs will be showcased.
In the context of the Edu-BioMed project, which concerns the Development of Competences for Education and Applied Research in UNESCO's Mediterranean Biosphere Reserves, the Lebanese and Moroccan universities involved in the project have developed case studies, through their students and researchers, supported by the scholarships offered in the framework of the Edu-BioMed mobility activities.
The topics of the case studies carried out are several as the Biosphere reserves, per definition of the UNESCO "are 'learning places for sustainable development'. They are sites for testing interdisciplinary approaches to understanding and managing changes and interactions between social and ecological systems, including conflict prevention and management of biodiversity."
Besides having an interdisciplinary and very transversal nature, the research and study conducted in this last year have been meaningful and important for the students involved in the projects since it has helped to find positive aspects in a very complicated social and economic situation that has affected Lebanon in the last two years, as has reported Ramzi Al Malti, from the Nature Conservation Center (NCC) of the AUB.
Find here below the plan of the webinars and follow this link to participate: https://zoom.us/j/93190083559?pwd=dVMrSlA1M2dpaGNyZkJKaW0vOGI5dz09
January 19th, 2022 – 01:00 pm (Beirut time) / 12:00 pm (CET)
The Sheep From the Future, Josh Carney, Department of Sociology, Anthropology and Media Studies, American University of Beirut
---
January 26th, 2022 – 01:00 pm (Beirut time) / 12:00 pm (CET)
Mapping Ecosystem Services in Jabal Moussa as a Mean to Enhance the Management of the Biosphere, Christina Majdalani (Advisor: Yaser Abou Nasr), Department of Landscape Design and Ecosystem Management, American University of Beirut
---
February 2nd, 2022 – 01:00 pm (Beirut time) / 12:00 pm (CET)
A Social Media Approach to Communicating Biosphere Reserves, Elsa Germanos (MKTG 225 – Leila Khauli), Nature Conservation Center, American University of Beirut
---
February 16th, 2022 – 01:00 pm (Beirut time) / 12:00 pm (CET)
Architecture and the Biosphere Environment in Pedagogy: Design Visions for Sustainable Dwelling Communities, Carla Aramouni, Department of Architecture and Design, American University of Beirut
---
February 23rd, 2022 – 01:00 pm (Beirut time) / 12:00 pm (CET)
Using Digital Technology in Promoting Citizen Science, Ramzi Al Malti & Salma N. Talhouk, Nature Conservation Center, American University of Beirut
---
March 2nd, 2022 – 01:00 pm (Beirut time) / 12:00 pm (CET)
The Study of Archaeological Plant Remains Extracted from Jabal Moussa Biosphere Reserve, Claire Malleson, Department of History and Archaeology, American University of Beirut
---
March 9th, 2022 – 01:00 pm (Beirut time) / 12:00 pm (CET)
Transformation of an Abandoned Quarry Water Collection Area into a Biodiversity Friendly Pond, Mounir Mabsout, Department of Civil and Environmental Engineering, American University of Beirut
---
March 16th, 2022 – 01:00 pm (Beirut time) / 12:00 pm (CET)
A Comparative Study of a Protected Area and a Biosphere Reserve in Lebanon, Rhea Ekmekji (Advisor: Salma Talhouk), Department of Landscape Design and Ecosystem Management, American University of Beirut
---
March 23rd, 2022 – 01:00 pm (Beirut time) / 12:00 pm (CET)
The use of Virtual Reality in the Design Process of a Pond in Jabal Moussa, Ibrahim Dhaini (Advisor: Beata Dreksler), Department of Landscape Design and Ecosystem Management, American University of Beirut
---
March 30th, 2022 – 01:00 pm (Beirut time) / 12:00 pm (CET)
Development of a Mushroom Guide in Jabal Moussa Biosphere Reserve, Nadine Modad, Department of Landscape Design and Ecosystem Management, American University of Beirut