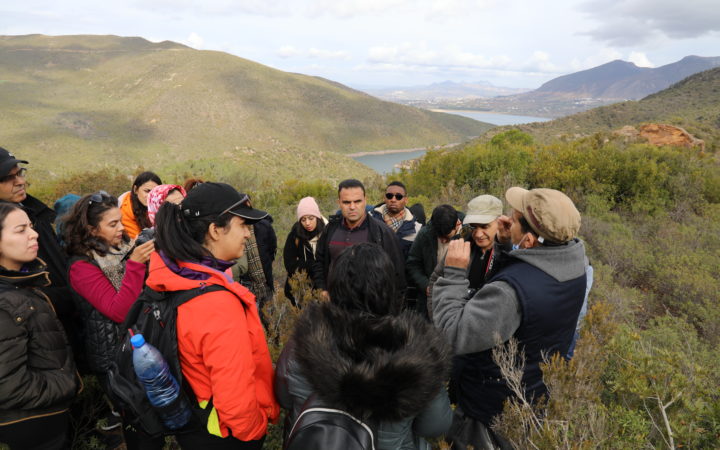 Posted on
During a three-day field visit March 3-6, 2022, the Moroccan Universities partners of the Edu-BioMed project, Mohammed V of Rabat and Cadi Ayyad of Marrakesh, doctoral students and professors met local actors involved or contributing to the management of the Intercontinental Biosphere Reserves of the Mediterranean (RBIM).
The visit aimed to share different opinions about the governance of biosphere reserves in Morocco. Particularly, on the RBIM to identify in a practical way its objective and its functioning.
Thus, the visit leaded the participants to the town of Chefchaouen, Tallasmtane National Park and Bouhachem Regional Park and the surrounding.
The main objective of the outing was to familiarize with the RBIM as well as to acquire practical knowledge on the functioning of the actors for the socio-economic development of the territory.
During the three-day period, the work consisted in contributing to the achievement of the following challenges:

Understanding the different sectors such as tourism, cooperatives and associations and their relationship with other economic and social sectors, and thus understanding the interactions taking place in the biosphere reserves;
The place of governance in the development of the RBIM;
Better understanding of the different activities, and how they contribute to the local and social development of the residents;
Finding out if the actors participate at the level of the Biosphere Reserve and how they do for the preservation of natural and landscape resources;
Identification of activities of the protected areas in the RBIM and the difficulties they encounter when carrying out actions in it;
Discussing about the governance of stakeholders in the RBIM;
Understanding the challenges and the issues of the RBIM as a territory that has a landscape of great ecological and cultural value.
As a result, a common reflection led the participants to summarise the actions needed to improve the awareness about the RBIM and the cooperation with Universities and further actors:
Strengthening communication, coordination, and exchange of between local actors, residents, and NGO's;
Involving everyone in the governance of RBIM and biological diversity in general;
Developing local strategies for the conservation and management of biosphere reserves;
Developing programs and projects for the benefit of the population of the RBIM.
The contributions of the participating students and professors were linked to the case studies conducted by the students their previous field work thanks to the Edu-BioMed project scholarships:
Lahcen ICHOU, LITOPAD, FLSH, UM5R: Roles of development and partnership actors in the Arghen Valley, RBA
Faiza ELMEJJAD, Yamina ELKIRAT, LITPAD, FLSH, UM5R: Media coverage of the environment of biosphere reserves: RBIM
Rachid SAMMOUDI, Scientific Institute, UM5R: Energy promotion in the RBIM
Hicham ATTOUCH, Sonia ADERGHAL, Soukaina BOUZIANI, FSJE, UM5R: The social and solidarity economy as an approach for sustainable development within the RBIM
Rachid AIT BELLA, LITPAD, FLSH, UM5R: The development of the ecotourism sector in the Intercontinental Biosphere Reserve of the Mediterranean (RBIM) as an approach to achieve the Sustainable Development Goals. Case study: Talassemtane Park.
Mohamed OUCHENNI, M. ADERGHAL, L. AMZIL, LITOPAD, FLSH, UM5R: Family farming within the RBIM
Saida BOUAAZA, Master Faculty of Sciences, UM5R: Tourism development of the SIBE of Jble Moussa in the RBIM