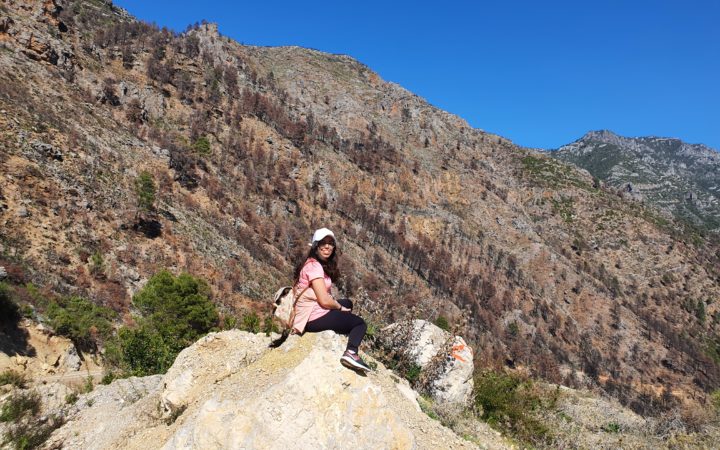 Posted on
Having chosen the study of forest fires including fire prevention techniques and awareness-raising among Biosphere Reserves' communities, Maya (Université Saint Joseph de Beyrouth, Lebanon) moved from Lebanon to Morocco for two months, from February 16th to May 21st 2020. She benefited from an Edu-BioMed scholarship offered to students and research staff interested in Mediterranean Biosphere Reserves.
She accepted to share her experience during an interview with UNIMED – partner of the project Edu-BioMed.
Can you explain your experience to us?
On the 16th of February, my journey to Morocco started. It was my first visit ever there. My mobility lasted three months, until May 21st. That was the first time I moved to another country for educational purposes. I am very grateful to the Edubiomed project for granting me this opportunity.
I learned a lot there. The Moroccan strategy on forest fires is much more detailed than the Lebanese one, it has upgraded forecasting and prevention techniques. Despite the high number of forest fires in Moroccan lands, they were always able to control the fire due to their strong intervention and suppression teams.
Can you share one particular experience you encountered?
During the mobility, I had the chance to spend two weeks in the Rif region in northern Morocco. I conducted many field visits to Achacha Tassift forest, the one that was hunted by a massive fire in September 2019, the fire burned up to 470 hectares of trees and lands, destroying maritime pines, Aleppo pines, junipers, and evergreen oaks in the Talassemtane National Park.
On the socio-economic aspect, the team and I spent some quality time with the local population. We tested their knowledge about forest fires and the importance of biodiversity conservation. Personally, I admire their lifestyle, everything is basic, stress-free. Their life relies on 100% natural products, from the food they eat to the clothes they wear.
While working on the thesis, I gained news skills from students, researchers, university professors, and technicians from the same and different areas of interest.
What would be your advice for future mobility students of the EduBioMed project?
I highly recommend this experience to anyone who has the chance to do it. Discovering life abroad, gaining great knowledge of different cultures, meeting a diverse range of people, and opening up your mind to new ways of learning. This is an overall life-changing experience.
Interested in doing mobility within the EduBioMed project? Have a look at the conditions here.
Do you want to hear other mobility experiences hosted in Morocco within the Edu-BioMed project? Have a look at the video interviews taken by the University Mohammed V of Rabat.