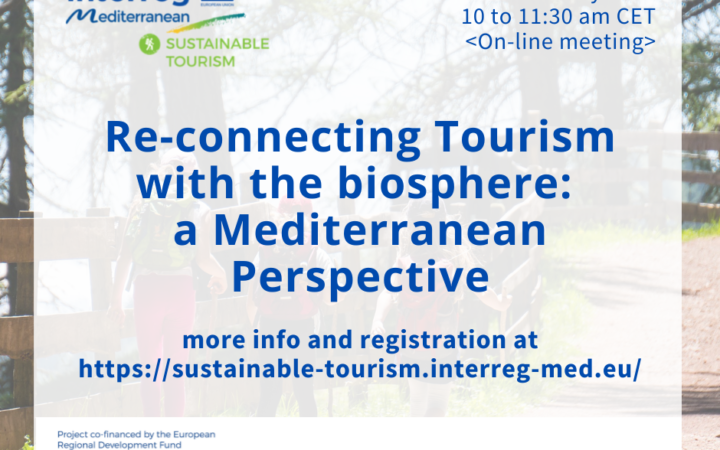 Posted on
In a workshop promoted by the Sustainable Tourism Community, an initiative co-funded by the InterregMED programme, representatives of successful EU-funded projects from both shores of the Mediterranean will meet to exchange their experiences. Particular attention will be given to the Biosphere reserves as learning places and strategic actors of sustainable development.
The Biosphere Reserves of Jabal Moussa – full partner of EduBioMed project, represented by Mr. Pierre Doumet and Arganeraie – associated partner – represented by Mr. Afker Abdel Aziz will contribute in this event with their experiences. This event is organised by UNIMED, full partner of EduBioMed, in the framework of the Project Sustainable Tourism.
This year marks the 50th Anniversary of the UNESCO's Man & Biosphere Programme and this webinar, focused on tourism, will stress the importance of the sustainable connection between people and nature, which is the vision of the MAB Programme.
The meeting will be in English with the interpreting in French.
10:00 | Opening and introduction about the Sustainable Tourism Community and presentation of the workshop topic and speakers _Emilia Stoduto, UNIMED & Mohammad Alazaizeh, University of Jordan – Coordinator of UNIMED SubNetwork on Mediterranean Tourism
10:15 | The experience of EMbleMatiC and the criteria to become part of the Emblematic Mediterranean Mountains (EMM) network _Kostas Zapounidis, PIERIKI ANAPTIXIAKI S.A. // EMbleMatiC project _ InterregMed program
10:30 | The MEET Network and the experience in the Mediterranean Region _ Arnau Teixidor, IUCN // DestiMED Plus project _ InterregMed program
10:45 | Blessing or curse? Conservation in the East-Med Hot Spot _ Pierre Doumet, Jabal Moussa Biosphere Reserve // CROSSDEV Project _ENI CBC MED program
11:00 | A Biosphere reserve in the local socio-economic development in Morocco _ Afker Abdel Aziz, Arganeraie Biosphere Reserve // EduBioMed project_Erasmus+ program
11:15 | Q&A session
11:30 | End of the workshop