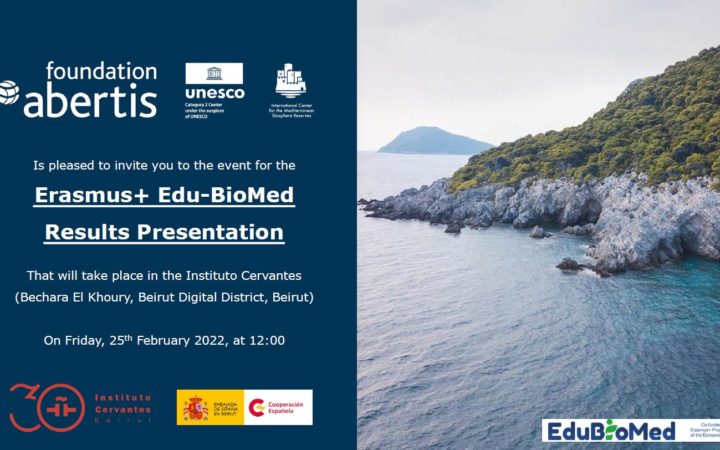 Posted on
Edu-BioMed partners, the Instituto Cervantes of Beirut, the UNESCOMED Center, and the Abertis Foundation will be in Beirut on February 25th, 2022 to present the results of the project, highlighting the lebanese partners contribution and impact of the project on the institutions involved.
The event will be opened at 11:30 am (Beirut time) with a Press Conference and then the agenda will be as follows:
12:00 Opening speech, Director of Instituto Cervantes en Beirut (Yolanda Soler)
12:05 Introduction to Abertis Foundation, Director of Abertis Foundation (Georgina Flamme)
12:15 Introduction to UNESCOMED Center, Coordinator of Abertis Foundation-Centro UNESCOMED (Laura Berjano)
12:20 Presentation of Results Project Erasmus+ Edu-BioMed, Director of the project (Antonio Bontempi)
12:30 Round table:
Moderator: Antonio Bontempi
Université Saint Joseph: Rhea Kahale
American University of Beirut: Salma Talhouk
Association for the Protection of Jabal Moussa: Pierre Doumet
Biosphere Reserve of Shouf: Lina Sarkis
13:15 Closing speech by Ambassador of Spain in Lebanon (José María Ferré de la Peña)
13:20 Cocktail
14:30 End of event
Due to the general health conditions, the participation is limited and upon invitation.
You can download the agenda here.